Carol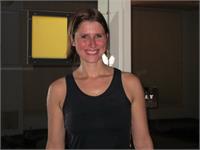 After several years of practice, Carol graduated from San Diego 2010 Teacher Training. With a background in Massage Therapy, her thorough knowledge of human anatomy/physiology and musculoskeletal anatomy, gives her an in depth perspective of each posture. She brings a light sense of humor into each class, to keep you smiling as you sweat. Carol's happy and encouraging nature fits the entire spectrum of student, whether it be beginner or veteran.
Carol instructs the following:
26 postures in a hot room




Must be familiar with the 26+2 (Bikram Method Class) since there will be minimal instruction. During this special class we will practice with yoga/meditation music playing in the background and a soothing atmosphere so you can get more in touch with your own practice. This class is recommended to those who know the 26+ 2. Please arrive early to find a spot and so we can start on time.