Yun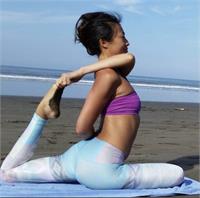 Yun came to Bikram Yoga as a means to lose that last 15lbs of baby weight that just wouldn't go away after having her second baby. Instead, she found a healing experience that she cannot live without. Not only did she shed the baby weight, yoga helped cure her allergies to just about everything that breathes and anything green as well as her Chronic Bronchitis. She attended the Spring 2013 Teacher Training program and has completely fallen in love with teaching since the day after graduation. She is inspired every day and with every class by the students who come take class. "They are my heroes and its my absolute honor to share energy with each and every person." Namaste!
Yun instructs the following:
26 postures in a hot room




Must be familiar with the 26+2 (Bikram Method Class) since there will be minimal instruction. During this special class we will practice with yoga/meditation music playing in the background and a soothing atmosphere so you can get more in touch with your own practice. This class is recommended to those who know the 26+ 2. Please arrive early to find a spot and so we can start on time.