Reggie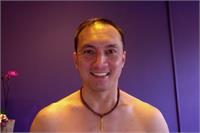 After studying various movement styles, Reggie Meneses, RYT began practicing Bikram Yoga while residing in New York City in 2000. He quickly discovered that the 26 posture Bikram Yoga series took him to deeper sensations of relaxation and self-realization than anything else he had practiced in the past. Also, his chronic back pain subsided and eventually disappeared altogether within weeks of continued practice. He also lost unneeded pounds and significantly lowered his blood pressure.
Reggie is the 2010 Men's Virginia Yoga Champion and represented Virginia in the National Yoga Asana Championship in Los Angeles in March 2011. Previously in 2004, he was also the Men's Mid-Atlantic Regional Yoga Champion and represented the Maryland, Virginia, and Washington DC area at the Bishnu Ghosh Cup World Yoga Championship that following year in Los Angeles.
Currently, Reggie teaches a variety of classes including Pure Power, Fluid Vinyasa, and Bikram Hot Yoga. His students represent a wide diversity of people. He has taught Bikram Yoga classes in Maryland, New York, California, Florida, and Washington, DC. He is also one of the founders of the award-winning Bikram Yoga studio in Cockeysville, Maryland.
Reggie has a Bachelor of Arts in History, a Bachelor of Science in Theatre and a Master of Fine Arts in Acting Performance. Reggie is also certified as a Professional in Human Resources (PHR) and has a certificate in Human Resource Management from George Mason University.
Reggie earned his Bikram Yoga Teacher Certification in June of 2001. When teaching Bikram Yoga, Reggie uses his theatre skills often. One of his New York City students remarked, "Reggie's instruction is positive yet firm, encouraging and focused. A great motivator and really knows how to get the best out of you." He is available by appointment for private and group instruction. Email Reggie via the studio for questions and/or appointments.
Reggie resides in Fairfax with his partner, Dave, and their rambunctious black pug, Lord Mugsley von Snuggles.
Reggie instructs the following:
26 postures in a hot room




Must be familiar with the 26+2 (Bikram Method Class) since there will be minimal instruction. During this special class we will practice with yoga/meditation music playing in the background and a soothing atmosphere so you can get more in touch with your own practice. This class is recommended to those who know the 26+ 2. Please arrive early to find a spot and so we can start on time.